30

Book Covers for Ebooks and Print-on-Demand
Pressbooks' primary function is to generate interior book files for ebooks and print books. You do not have to use Pressbooks to create your book covers—you can source those separately—but  you can use our book cover generator to produce both your ebook or PDF covers. The file you create will be automatically sized to complex industry specifications.
NOTE: Print-on-demand services require that interior and cover files are submitted separately, but ebook services typically do not. Book covers will be included in your ebook (EPUB and MOBI) exports, but not in your PDF files.
In this section, we will cover:
How to create ebook and print book covers in Pressbooks
Ebook cover specifications
How to include your cover in your exported ebook files from Pressbooks
What's different about the specs for a print book cover
How to turn an ebook cover into a print cover in Pressbooks
How to Use the Pressbooks Cover Generator
Here's how to access the cover creation tool if it's installed on your network.
(NOTE: if you are using Pressbooks.com, you have access to the cover generator, but exported cover files will contain Pressbooks watermarks and ads until you upgrade.
1. Go to Export / Cover Generator.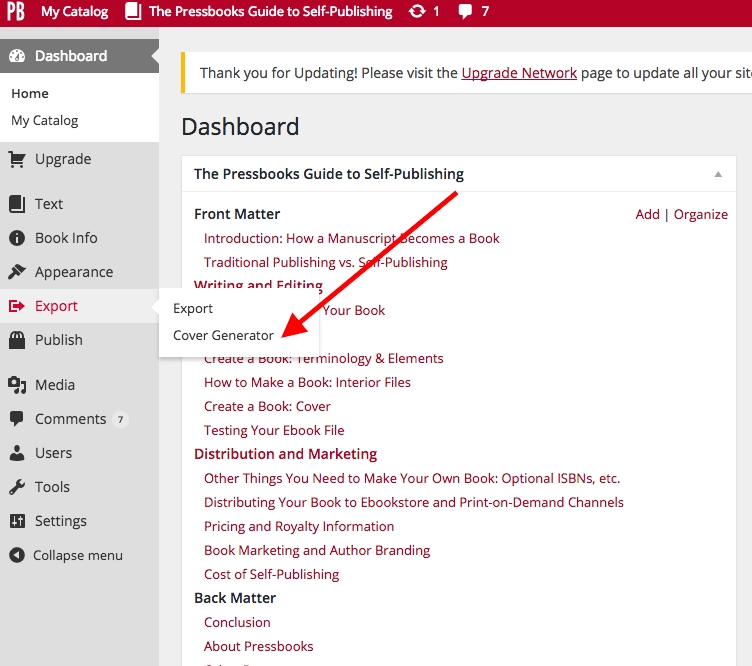 2. Adjust your book information. This is automatically imported from what you've entered under Book Info, but what you enter here will not override the text you have entered on the Book Info page.
NOTE: If you would like to keep any of these fields blank, you will need to enter   in order to prevent the system from automatically pulling in the information from the Book Info.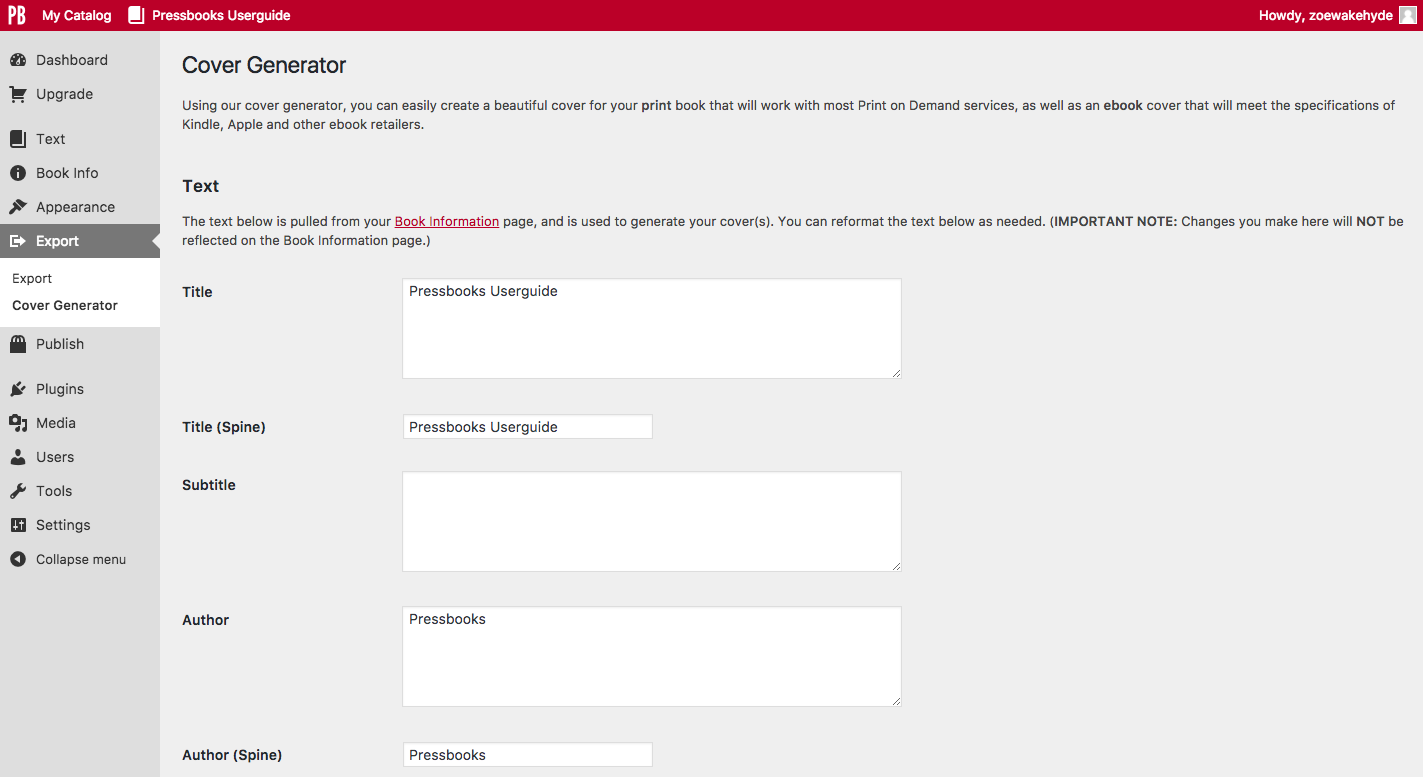 3. Set your theme (your book cover is going to inherit the font and design style of the theme you applied to your book. You can change that theme.)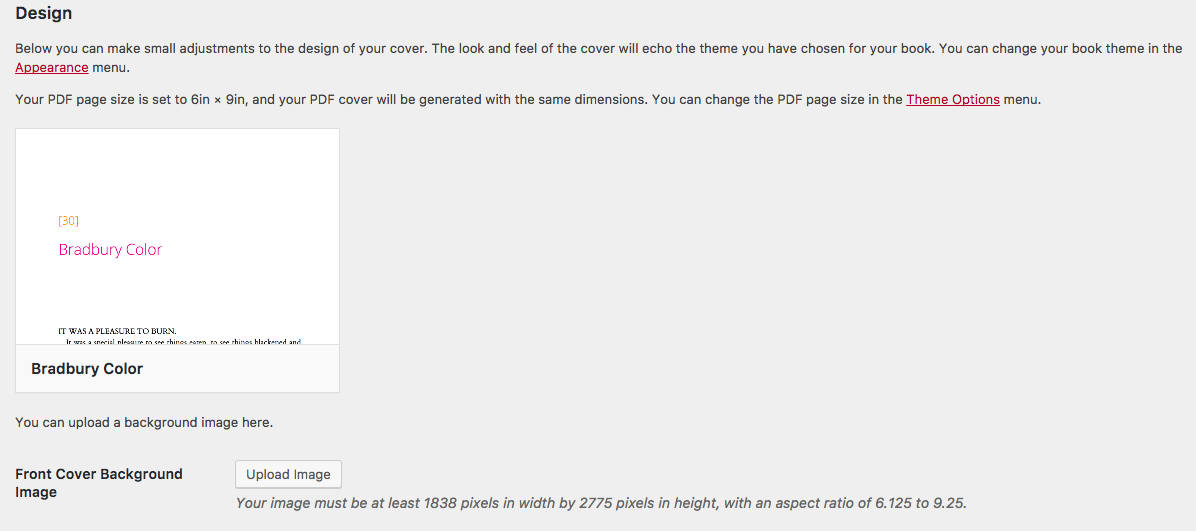 4. Upload an image for the front of your cover. This is optional. You can also have a plain cover and specify the background color instead.)
NOTE: Most print on demand suppliers (including IngramSpark) require your cover image to be 300dpi. See below for more on how to ensure you meet this requirement.
5. Check the page count. Pressbooks will automatically fill this field with the page count of your most recent PDF export UNLESS you change it manually. If you change it manually once, it will no longer be automatically updated, so you will have to be very careful to check the page count here before exporting your final cover file.
6. Set the colors for your cover's background and text
7. Click on Make PDF Cover and Make Ebook Cover to generate print and ebook cover files. A progress bar will appear to track your cover files as they export. when complete, the cover files will appear underneath the Download heading.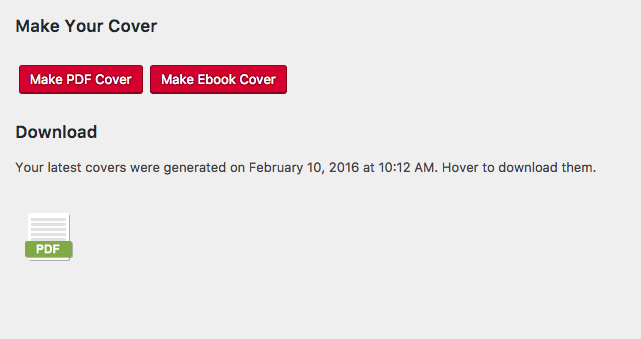 Preparing Cover Images for Print
Many print-on-demand suppliers (including IngramSpark) request that cover images be at least 300DPI. To ensure that our cover generator is creating covers that meet this requirement, we have added a check during the image upload process that will verify whether your image is large enough to export at the right resolution for your trim size.
Before you upload your cover image to the generator, you will need to check that it is the right size. To do so:
Add .125 to the top, right side and bottom of your front cover dimensions (e.g. the front cover for a 6×9in trim size book would be 6.125×9.25in)
Multiply those dimenseions by 300 (to give 300 pixels per inch), e.g.
(6.125 x 9.25in) x 300 = 1838 x 2775 pixels
If your image is not large enough, or has the wrong width to height ratio, the uploader will give you an error message with the dimensions your file needs to meet.
Creating an ebook cover, or not submitting to IngramSpark?
We've left a loophole so you can circumvent these restrictions if you need to. Instead of uploading your image in the cover generator, go to your media library first and add the image there. Then, when you go to add your image in the cover generator, select the cover image from the media library rather than uploading the file again.
Tips for Hiring a Designer
If you are going to hire someone to design your book covers, the following tips will help.
Ebook Covers-Specs and Tips
A few things to keep in mind when designing your ebook cover:
Technical specifications
Various ebook platforms (Kindle, Apple iBooks, Kobo and others) have slightly different specifications for ebook covers. Here is a good overview of specs that should keep you in good stead everywhere:
1:1.5 aspect ratio, meaning height should be 1.5 times the width of the cover
recommended dimensions: 2500x3750px
safe minimum dimensions: 666x1000px
safe maximum file size: 2MB
recommended file type: JPG
Think About Readability
Your book cover can be tiny when showcased in ebookstores. Make sure to design a cover with big, clear fonts that will catch your reader's attention.
Print / Print-on-Demand Cover Specifications
Print-on-demand covers are more complicated than ebook covers.
This is because:
The cover must have a front, spine and back.
Front, back and spine are all contained in a single PDF file.
The size of your cover will change depending on:

trim size: is your book a pocketbook, or trade paperback? 5.5 x 8in? 6x9in? Bigger? Smaller?
page count: A book that has 1,000 pages needs a wider spine than one with 100 pages.
Your printer or print-on-demand supplier will be able to provide you with clear specifications for your cover, which can be sent to whomever is designing your POD cover.
NOTE: Because of the complexity of designing print covers, we recommend hiring a professional to design your print book cover if you are not going to use the Pressbooks cover generator.
It is also possible for you to use free tools outside of Pressbooks, such as the free Cover Creator application available from KDP or the free design tool Canva.
Uploading Your Ebook Cover in Pressbooks
To upload your book cover file in Pressbooks:
Make sure your book cover is at least 666x1000px (recommended 2500x3750px)
Go to Left Menu > Book Info
Scroll down to "Cover Image." Click Choose File and locate your book cover file on your computer
Click Choose to upload that file into the Pressbooks system
Pressbooks will then include your ebook cover in your MOBI and EPUB file exports.
NOTE: Covers are not included in the PDF exports (see below for why!).
Turning an Ebook Cover Into a Print Cover
It may be that you have an ebook cover ready to go, and want to turn it into a print cover as well. Using the Pressbooks cover generator, you can easily add a spine and back to create a full, print-ready cover. Once you're in the generator:
Delete the title and author information, except for those labelled "Spine"
In the empty fields, enter   (this will stop the generator pulling in the information from your Book Info again)
Fill in the "About" section that will appear on your back cover
Change your theme if desired
Upload your ebook cover as the Front Cover Background Image
Complete the page count and paper size as normal
Choose your background and font colors for the spine and back cover
Make your cover!
Why Isn't my Cover Showing up in my PDF Export?
Ebooks require a cover in the ebook itself, so when Pressbooks exports your book, the cover is included.
For print-on-demand, however, you send your POD supplier two separate files:
the "PDF interior" file (the inside pages of the book, which Pressbooks produces)
a separate PDF file of the cover (which you can produce on Pressbooks if you've upgraded to PDF+EBOOK Pro but are also welcome to source elsewhere)
Because Pressbooks PDFs are designed for print-on-demand, we do not include the cover in our PDF exports. If you are distributing your PDF on its own, you add your cover to your PDF using other tools such as Preview (for Mac) and Adobe Acrobat.
If you use our cover creator, you would download the file from Pressbooks before uploading to the bookstores. Or, get this file from your designer.