You will need to login using your Canvas credentials for Unizin. Once you do you will not have to login again.
Unizin Engage now uses the BryteWave/Redshelf e-Reader.
You will be able to access the BryteWave/Redshelf e-Reader directly through the Unizin Engage tool.
Some times faculty will create a link in a module in Canvas for you to access the Redshelf/BryteWave e-Reader.
You can click on this link to access the e-text through the Unizin Engage link.
When you open a BryteWave text you will see this in Canvas: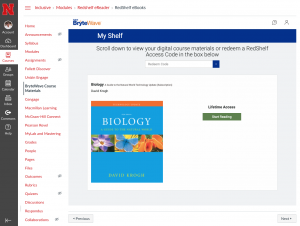 You can just click on the Start Reading button to access the textbook.