Affordable Content at UNL
This book is a Faculty resource that will go over some of the affordable content
options available to students at UNL through the STAR Initiative.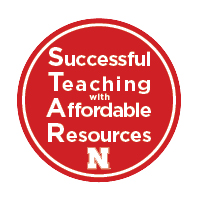 Successful Teaching with Affordable Resources (STAR) is a campus initiative
to decrease the cost of student education by making access to
textbooks and course content more affordable.
STAR leverages the resources of the following organizations:
Office of the Executive Vice-Chancellor.
University Libraries.
Information Technology Services.
Center for Transformative Teaching.