Using a Blueprint Course as an Instructor
Blueprint Courses are courses that are used as template courses. Course content can be locked and then synced to associated courses. As an instructor, you can manage course content, lock course content, sync associated courses, and view sync history. If you have
specific material that needs to be managed for several courses and not be edited in associated courses, a Blueprint course might be the option for you.
A Blueprint course (sandbox) is a template and has to be created by a Canvas admin. Submit a ticket to our support system to get started. You have a few options of what can be locked. By default, it is Content but consider the options of adding Points, Due Dates and Availability Dates if desired. Make sure to indicate these options in your ticket along with which courses will be associated with this Blueprint course.

When your Blueprint sandbox is created, you'll see the Blueprint icon in the upper right on the home page. The associated courses that you indicated when creating a ticket will show under the Associati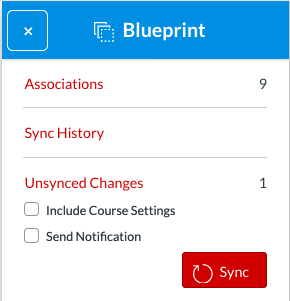 ons link.
Content isn't automatically locked. You choose which content you want to lock by selecting the lock icon. Once you have your course created with modules, assignments, and content, you can click the lock icon next to those items you wish not to be edited in the associated courses.
By default, objects are unlocked. You can change the status of an object by toggling the lock and unlocked icons. In any Index page, you can view the status of each object. White squares indicate the object is unlocked. Blue squares with a lock icon indicate the object is locked.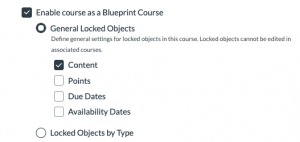 A Blueprint course also allows you as the instructor of that Blueprint course to make updates and push those updates out to all the associated courses. While all documents will get pushed out to the associated courses, unlocked items that are changed will not get pushed out during the next sync. Any documents added by the instructor in the associated course will not be overwritten.
White squares indicate the object is unlocked [1]. Squares with a lock icon indicate the object is locked [2]. The hover text also confirms the status of the object.

Any new content you create in your course does not include a blueprint icon and cannot be associated with the blueprint course.
Attributes that can be locked include content (including the object title), points, due dates, and availability dates.
While creating a Blueprint course, we would be happy to create another sandbox for initial testing. Please indicate this in your ticket when requesting a Blueprint course.
For additional information on how a Blueprint course is different than using Commons, please see our documentation.
For more information on Blueprint courses, please see this additional information from Canvas.
Media Attributions
blueprint clipart © Clipart Library
Canvas Blueprint icon © Canvas
Canvas Blueprint options © Canvas
Canvas Blueprint settings © Canvas
blueprint